Depending upon client preference, offer plain and curly parsley. We generally harvest parsley after 70 to 90 days of planting. Due to the delicate nature of parsley, our harvesters and packers abide by strict food safety procedures that keenly distinguishes the quality of our product.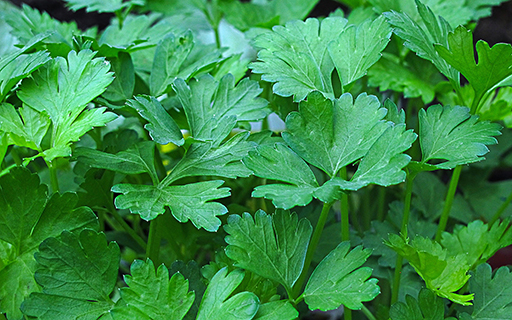 QUALITY
After being packed in the fields, our parsley is cooled and iced in a temperature-controlled ice injector which removes heat that was generated from the field. Our products maintain variety consistency, never mixing curly with plain. You'll find a rich, green color, which is free from decay or any kind of damage, defects or seed stems.
TEMPERATURE
Optimal storage conditions are 0°C (32°F) with 95 to 100% relative humidity. With these conditions, parsley can last up to 1 or 2 months, compared to only 3 days at 18 to 20°C (64 to 68°F). The end-point of storage takes place when parsley wilts, at around 20% of weight loss.
NUTRITIONAL VALUE
Parsley's deep green leafs are rich in chlorophyll (good for the blood), and is high in vitamins A, B5 (pantothenic acid), B6, C, E and K, along with folate, calcium, copper, iron, niacin, manganese, magnesium, phosphorus, potassium, riboflavin, thiamin and zinc. Parsley offers a very good source of dietary fiber and protein.