Our green onion crops are harvested according to the mean diameter of the base plate of the immature bulb. This diameter is between .6 and 1.3 cm (1/4 to ½ inch) which also defines the size that it will go on small, medium or large. We cut the roots in the fields to ¼ to ½ inch in length, and trim the green onion stalks to a length of 11 inches. The crops are then transferred to our packing shed, where they are washed and carefully packed.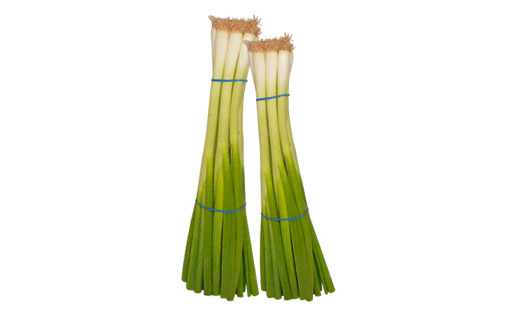 QUALITY
Our green onions have a thin shank of at least 5 to 7.5 cm (2-3 inches) in length, They are well formed, uniform in shape, thin necked, turgid and bright in color. They are well-cleaned, free of broken or crushed leaves and dehydrated clipped ends, and free from excessive roots, decay, insect-injury, mechanical damage.
TEMPERATURE
Green onions held at 0°C (32°F) and a 98 to 100% relative humidity will remain fresh and flavorful for up to 4 weeks. Packaged icing and perforated polyethylene film liners are used to maintain quality. The storage life of green onions at 10°C (50°F) is 7 to 10 days. Green onions benefit from light misting.
NUTRITIONAL VALUE
Green onions are very low in saturated fat, cholesterol, sodium and dietary fiber. They offer a good source of vitamins A, B6, C, and K, along with copper, thiamin, folate, magnesium, phosphorus, zinc, riboflavin, calcium, iron, potassium and manganese.